Every uncaged man needs a little help on their journey to baddassity.
These are some of the programs and tools that have helped me most along my journey. I encourage you to explore them and decide what works best for you.
Full disclosure: Some of these resources are free, and some aren't. Those that are paid resources are affiliate products or services, meaning if you buy them, I get a commission at no extra cost to you. Please know that I have personal experience with all of the following resources, which is why I recommend them.
Becoming a flexible beast, even if you're not a flexible person (like me)
I'll be honest, I was never naturally flexible. Somewhere I got the seed planted that some people are born that way, and others are just naturally stiff.
But then something weird happened, I focused on flexibility, really worked at it and would you look at that, I made some pretty damn good progress.
Here's how I used Focused Flexibility from GMB to go from a stiff board to a supple beast.
Click here to learn about focused flexibility.
Upper body strength with the gymnastics rings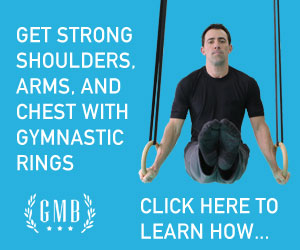 I've gone through the Rings 1 and Rings 2 programs from GMB and each have taken my upper body strength to the next level. The muscle-up alluded me for years until a few weeks into the step-by-step programming from these smart guys.
Click here to get started with Gymnastic Rings training.
Foundations of epic movement (don't skip this)
If you want to move like a beast, you need to start with a solid movement foundation. Otherwise, you're likely to simply injure and frustrate yourself.
This course from my friends at GMB will help you get strong, mobile and agile so you can move heroically. The best part? You don't need any equipment to get started.